PRODUTECH MOBILIZING PROJECTS
PRODUTECH - Production Technologies Clust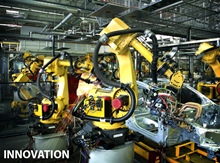 er - is an articulated network of production technology providers capable of addressing to competitiveness and sustainability challenges by delivering innovative, flexible, integrated and competitive solutions in response to the manufacturing industry's needs.
By embodying a collective efficiency strategy aimed at innovating, qualifying and modernizing both developers and users of manufacturing technologies, the PRODUTECH cluster boosts a structured cooperation between production technology companies and other relevant stakeholders – e.g. companies across key sectors of the manufacturing industry, which use production technologies, research organizations and universities and other stakeholders.
PRODUTECH's multianual programme defines 10 R&D +I(nnovation) +D(emonstration and diffusion) which embodies a pipeline for the launch of new projects, pertaining to R&D, Innovation and other strategic Cross-actions. In these the umbrella Mobilizadores (Mobilizing projects/programmes) assume particular relevance, gathering a critical mass of capacities, competencies and stakeholders and by creating the basis for the generation of new advanced production technologies that will equip the current and the new Factories of the Future.
MOBILIZING PROGRAMMES:




Important impacts are expected at competitiveness and internationalization level, notably by the development of innovative production technologies' products and services, enabling the transformation and modernization of the production processes of the manufacturing industry.
Coordination of the umbrella programmes MOBILIZADORES PRODUTECH 
projectosmobilizadores@produtech.org