PRODUTECH MOBILIZING PROJECTS PLATFORM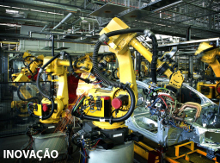 PRODUTECH - Production Technologies Cluster - is an articulated network of production technology providers capable of addressing to competitiveness and sustainability challenges by delivering innovative, flexible, integrated and competitive solutions in response to the manufacturing industry's needs.
By embodying a collective efficiency strategy aimed at innovating, qualifying and modernizing both developers and users of manufacturing technologies, the PRODUTECH cluster boosts a structured cooperation between production technology companies and other relevant stakeholders – e.g. companies across key sectors of the manufacturing industry, which use production technologies, research organizations and universities and other stakeholders.
PRODUTECH assumes a key role in the promotion of projects, initiatives and actions, within 3 main strands, notably Cooperation, Innovation and Internationalization, aiming at strengthening the international competitiveness of the Portuguese economy.
Under the Innovation umbrela of its action plan, 2 mobilizing projects were approved:
PRODUTECH-PSI: New Products and Services for the Manufacturing Industry
PRODUTECH-PTI: New Processes and Innovative Technologies for the Production Technologies Industry
With a combined budget of 12,5 million euros, these projects gather a comprehensive set of R&D activities, forwarding advances beyond the state-of-the-art and industrial breakthroughs.
Coordinated by TEGOPI (company) and CATIM (R&D organization), the consortia are composed by 42 organizations (19 production technology suppliers, 6 reference manufacturing companies, users of production technologies, and 17 R&D organizations and universities) sharing a common strategic vision on the development of R&D and Innovation projects towards industrial breakthroughs.
Important impacts are expected at competitiveness and internationalization level, notably by the development of innovative production technologies' products and services, enabling the transformation and modernization of the production processes of the manufacturing industry.
Coordination of PRODUTECH PSI and PRODUTECH PTI
projectosmobilizadores@produtech.org